On 12/08/2022, PACE Institute of Management successfully organized a seminar with the topic "Management efficiency in the digital transformation era". The seminar provided expert perspectives in digital transformation activities, as well as core principles and real values to improve management efficiency in the digital age.
The event received the numerous participation of entrepreneurs, HR leaders and especially business senior leaders.
The story of digital transformation
At the beginning of the seminar, Mr. Hang Sam Nang – Digital Transformation Solution Consultant of PACE Institute of Management shared an overview of the concepts, trends and context case studies of large multinational corporations in Vietnam that are undergoing in the process of digital transformation.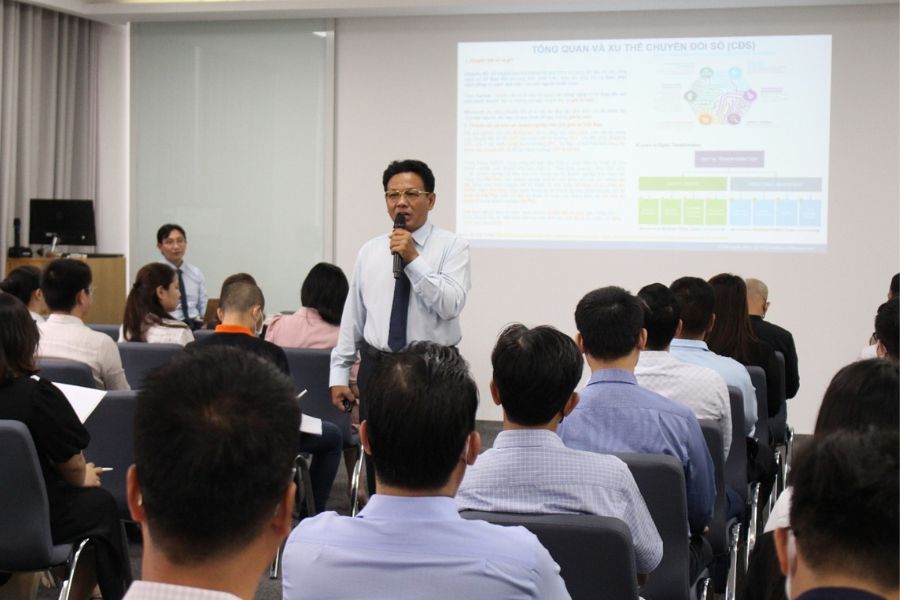 Mr. Hang Sam Nang – Digital Transformation Solution Consultant, PACE Institute of Management
Some definitions of digital transformation are mentioned such as:
Digital transformation is the process of using data and digital technologies to change the way of development, overall and comprehensively change of the way people and organizations live and work.

According to Gartner, digital transformation is the use of digital technologies to change business models, creating new opportunities, revenue and value.

Microsoft sees digital transformation as rethinking how organizations bring together people, data, and processes to create new value.
And to answer the question of what are the obstacles and challenges in the context of digital transformation, speaker Hang Sam Nang shared the following 6 factors:
Changing corporate culture for digital transformation:

One of the biggest challenges for companies when embarking on digital transformation is changing corporate culture. Change habits, ways of thinking, ways of doing, perceptions, ...

Define a clear vision with measures of digital transformation success:

Businesses must build digital transformation goals (Goal: where are they heading?, Time: When do they want to reach that goal? Action: How do they want to do it?), a system of measurement and regular testing to track progress towards achieving the vision and effectiveness of strategies.

Connecting teams and processes across

organizations: Digital transformation requires data, information, applications, and processes to be seamlessly exchanged within an organization. Therefore, all stakeholders need to work closely together.

People development:

IT and business leaders worldwide face a common challenge: skills shortages. This includes both soft skills (such as communication or management), and hard skills (such as technical competence).

Focus on user experience:

User experience will be a top priority when it comes to connecting people during digital transformation.

Personal connection:

Connect online, in person, inside, externally, via platform
In addition, when talking about the current state of digital transformation of businesses in the world and Vietnam, Mr. Nang said: "Small and medium enterprises are facing barriers in the digital transformation process such as lack of digital skills and human resources (17%), lack of an IT platform strong enough to enable digital transformation (16.7%), a lack of digital thinking or digital culture challenges in the enterprise (15.7%) ...
Vietnam has a "guideline" towards national digital transformation. In the process of digital transformation, Vietnam aims that the digital economy will account for 30% of GDP by 2030. " (Source: Ministry of Industry and Trade)
From the above information, Mr. Nang concluded about why in Vietnam, digital transformation is a challenge:
Business leaders do not have enough information to make decisions and strategies

Information is not fast, inaccurate, not timely

Not optimizing governance to improve business efficiency
Finally, Mr. Nang affirmed that digital transformation is a mandatory activity that need to creates real new value, otherwise it is just an investment inefficient, budget waste. Therefore, digital transformation must be parallel to effective management, by leveraging digital technology, leveraging processes, leveraging business model, take advantage of customer experience and optimal utilities.
Most importantly, the HUMAN factor creates the most sustainable success for digital transformation.
Improving management efficiency in the era of digital transformation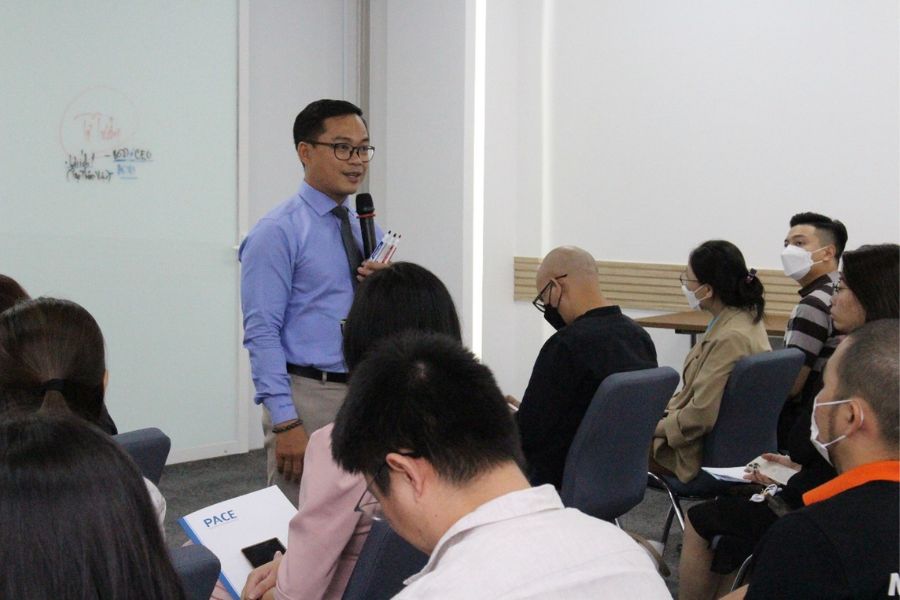 Mr. Truong Thanh Cuong - Director of Training Development, PACE Institute of Management
Following the meeting, Mr. Truong Thanh Cuong - Director of Training Development, PACE Management Academy suggested a new perspective on digital transformation with the question: "The goal of the what is the current business leader, effective digital transformation for the company, or achieving the vision/mission of the company?
With the above 2 choices, many leaders shared their views and made choices. However, to clarify more about this issue, Mr. Truong Thanh Cuong shared: "The goal of digital transformation will be a part of the overall strategic goal of the company".
Therefore, leaders first need to understand and clarify the goal, otherwise they will fall into the trap of 'digital transformation' and forget about the goal. What is the big strategic goal of the business. Or vice versa, we are so focused on the big goal of the business that we forget how the external market has changed, and left behind by opponents.
This is also the solution to the problem "how to improve management efficiency in the digital transformation era?".
Agree with Mr. Hang Sam Nang's perspective that PEOPLE are the main factor creating digital transformation efficiency, so who plays the most important role? To continue answering this question, Mr. Cuong pointed out each responsibility of each level of leadership of the human resources apparatus in the enterprise such as: CEO, BOD, BOM,...
And in order for each of the above-mentioned personnel to fulfill their responsibilities in digital transformation, forcing them to have the advanced IDEOLOGY of the new times. Believe that "we cannot think the same, act the same, but have new results".
The next move that Mr.Cuong believes that to be able to improve management efficiency in the digital transformation era is that businesses need to raise the level of management. The remaining these factors: SYSTEM, LEADERSHIP, STRATEGY & CULTURE.
Suggesting solutions to these problems, the speaker introduced to you a model that includes the 6 most important pillars that any business and leader needs to continuously recreate. This is the standard for all leaders who want to manage their businesses effectively, improve their stature in the domestic and international markets, thereby seizing opportunities to find answers to the problem of improving management efficiency in the time of digital transformation.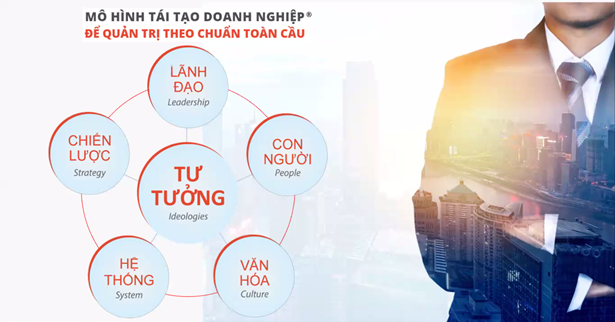 Model "Corporate Regeneration", PACE Institute of Management
Leadership solution helps a GOOD company become a GREATNESS company to confidently compete in the international market in the era of digital transformation
Finally, the seminar opened the world's most prestigious leadership development solution for the business community in Vietnam - an solution leadership to transform itself from a GOOD company to a GREAT company to conquer the international market, which is: Global Leadership Program (GLP). GLP is the largest-scale training solution at PACE Institute of Management, currently receiving a lot of attention from senior leaders.
GLP special program is organized by PACE in collaboration with George Washington University (GWU) and 04 of the world's leading prestigious training institutions: FranklinCovey, Ken Blanchard, Balanced Scorecard and SHRM deployed in Vietnamese for Vietnamese entrepreneurs.
"A LIFETIME Course", "If only I had known about this program earlier",
"The most prestigious leadership development program in Vietnam ever",
"GLP helps me elevate my leadership and reinvent my business"...
Are the feeling of most entrepreneurs and leaders who have participated in GLP
However, the Board of Directors always have certain concerns and specific goals for their business and to be able to see with such business goals, can this program be solved or not?
If you are interested in learning about the above issues, the Advisory Board will set up a separate discussion schedule for each of you. The consulting team of GLP solutions hopes to share with you.
If you have any concerns or questions, please contact: Hotline/Zalo: 0982 267 685 (Ms. Ha) or 0961 456 309 (Ms. Hang).
With a combination of in-depth perspectives and international standard methods, it is believed that the Seminar "Management efficiency in the digital transformation era" has not only suggested an action, inspiring transformation, it also provide a space for all guests to listen and share difficulties together in order to create a spirit of transformation for yourself and your team in the next journey.